2011 iPhone Games recommendations
Games should be replayable, IMO. So many of these $1 and $2 games are "play 3-4x and get bored". Particularly annoying for me are so-called "RPG's" which have no roleplay, no character development besides a skill-tree and stat assignment, and the equipment is alway about improving your item progression, ie a sword II to a sword III.
I did think
Tiny Heroes
was impressive, the
War on Terror
is humorous,
Elder Sign
is a worthy contender,
BattleHeart
is highly replayable (and while it is one of those 'RPG-like' games I described, the gameplay mechanism is quite fun),
GodVille
is truly unique (and funny & free w/o IAP),
PuzzleQuest
is awesome,
Protector
was interesting/challenging,
Anomaly
was fun but lacked replayability,
Neuroshima Hex
is a fav,
Ascendancy
has potential as a 4x (but UI was challenging),
Battle for Wesnoth
should be a 'genre breaker' (amazing strategic combat), and I also liked
The Lord of the Rings: Middle-earth Defense
(had some good value for unique LOTR character based TD game),
Disappointments were
King of Dragon Pass
(which had a great review but was less than thrilling),
King Cashing
(supposedly unique/amazing game, but I found it lacking),
Legend of Yore
(an 8-bit Rogue-like w/o anything beyond hack & slash), &
Mage Gauntlet
(great review, less than exciting 8-bit retro game). Also bought
Chaos Rings
awhile back & found that very disappointing.
I've also tried a bunch of CCG games for iPhone, incl the 'big'
Shadow Era
(ok game, hate the clumsy UI),
Dungeon Solitaire
(good fun, some strange new cards),
Kard Combat
(was fun for a few plays, then boring), as well as
Cabals
(strategic game with potential, UI was awkward & heckling IAP is annoying),
Orions 1
&
2
(both fun, dev's not so great),
Stack & Deploy
(interesting CCG-like game w/action elements, UI takes practice).
Big fan of
Speedball 2
(fun!),
Words w/Friends
(my g/f is hooked & have a few regular ongoing games, new IAP is annoying),
Dungeon Defenders
&
Defender Chronicles
(fun twists on TD),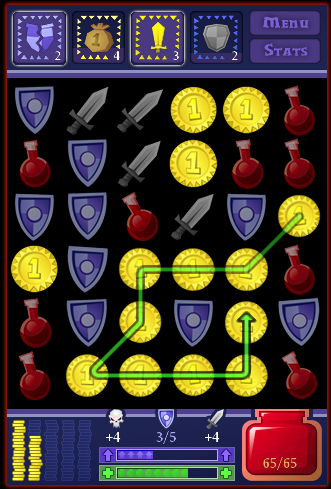 Non-game props for apps on my iPhone go to -->
TuneIn Radio
,
DropBox
,
TapForms
(a DB),
Pandora
,
Garage Band
,
NetFlix
(I can watch whole movies or anime episodes on my phone? WOW!),
Adobe Ideas
(my fav sketch app),
ComicBook
,
Yelp
(but bogus & weak reviews are annoying),
SoundHound
,
SoundCloud
,
USB Disk Pro
,
CraigsPro+
,
Mint
,
Blogger or Blogger+
,
Google Voice
,
Genius Scan +
,
Evernote.
Dungeon Raid
may be my all-time favorite game -- the developer started with an excellent game and improved it, dev is very responsive and committed to their community of players, and the mechanic is a lot of fun AND the sounds are great (and I can play my own music behind it).